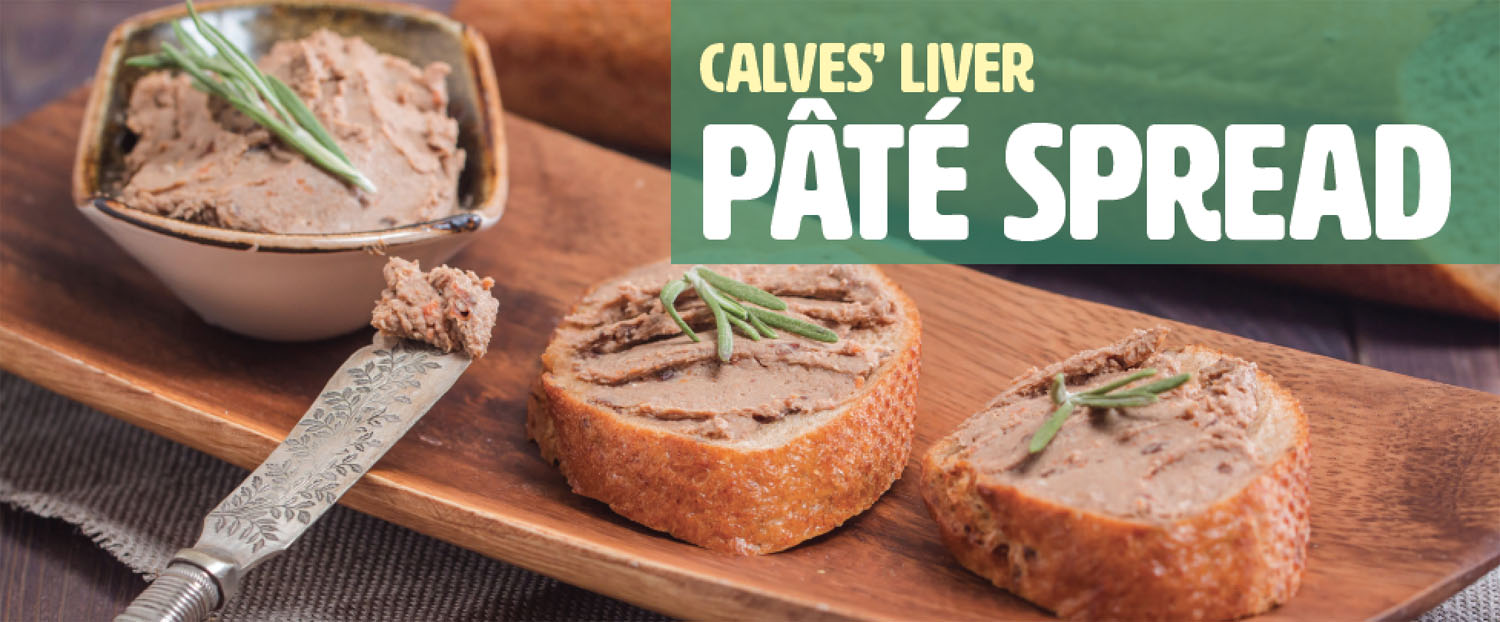 Calves' Liver Pate Spread

2 tablespoons olive oil, divided
1/2 cup chopped onion
2 cloves garlic, minced
8 ounces calves' liver
1 tablespoon balsamic vinegar
1 tablespoon chopped fresh thyme or rosemary
1/2 teaspoon each: salt and ground black pepper
2 large red or yellow bell peppers or one of each color
1 medium cucumber
8 thin slices French bread baguette, toasted

 
---
Heat 1 tablespoon of the oil in a medium skillet over medium heat. Add onion and garlic and sauté 5 minutes. Cut liver into 1-inch pieces and add to skillet. Sauté 5 minutes or until liver is barely pink in center. Remove from heat and let cool 5 minutes.
Place the mixture into a food processor and add the remaining tablespoon olive oil, thyme, vinegar, salt and pepper. Process until fairly smooth. Transfer to a decorative crock and refrigerate at least 1 hour before serving.
  Meanwhile, stem, seed and cut each bell pepper into 8 chunks. Use the tines of a fork to scrape down sides of cucumber. Cut cucumber crosswise into 16 slices. Serve pâté with vegetables and bread.
Makes 8 servings.

Nutrition Facts
per serving
Calories 180
---
Calories from fat:

50g

Total fat:

6g

Saturated fat:

1g

Unsaturated fat:

3g

Sodium:

360mg

Carbohydrates:

23g

Fiber:

2g

Sugars:

3g

Protein:

9g

Iron:

10%DV

Zinc:

16%DV

B12:

255%DV