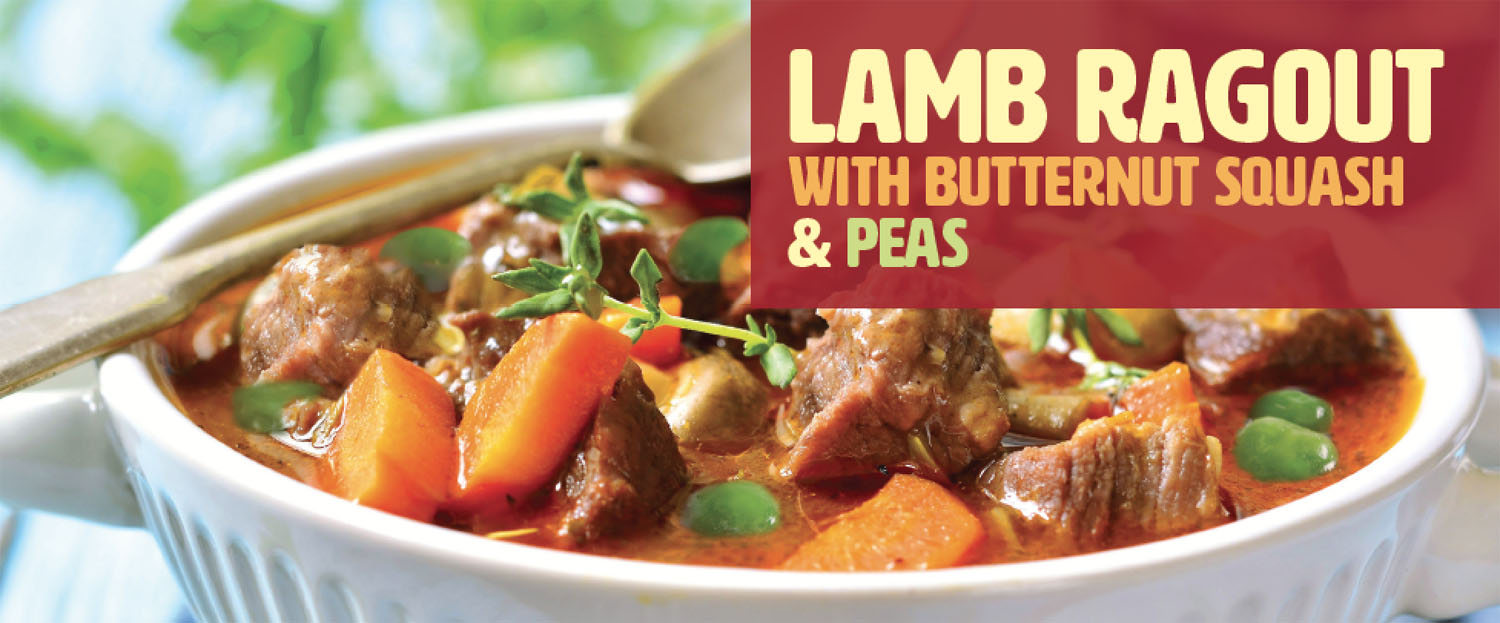 Lamb Ragout with Butternut Squash & Peas

1 pound well-trimmed lamb shoulder, cut into 1-inch pieces
1 tablespoon all-purpose flour
2 teaspoons dried thyme or rosemary
1 teaspoon ground black pepper
1/4 teaspoon salt
2 teaspoons olive oil
1 cup chopped onion
3 cloves garlic, minced
1/2 cup dry red wine
3 cups unsalted chicken broth
1 pound (1-inch pieces) peeled and seeded butternut squash
1 cup frozen peas or edamame
1/4 cup sliced almonds, toasted

 
---
In a medium bowl, toss together lamb, flour, thyme, pepper and salt. Heat oil in a large saucepan or Dutch oven over medium heat until hot. Add lamb and brown on all sides, about 8 minutes. Use a slotted spoon to transfer the lamb to a plate and set aside.
Add onion and garlic to same pan and sauté 5 minutes. Stir in wine and simmer 3 minutes, scraping up browned bits from bottom of pan. Add broth and return lamb to pan. Bring to a boil over high heat. Reduce heat and simmer uncovered until lamb is almost tender, about 50 minutes.
  Stir in squash and simmer until squash and lamb are tender, about 15 minutes. Stir in peas and simmer 2 minutes.
Ladle into shallow bowls and top with almonds. Makes 4 servings.

Nutrition Facts
per serving
Calories 320
---
Calories from fat:

100g

Total fat:

11g

Saturated fat:

3g

Unsaturated fat:

6g

Sodium:

270mg

Carbohydrates:

24g

Fiber:

6g

Sugars:

6g

Protein:

26g

Iron:

15%DV

Zinc:

31%DV

B12:

45%DV