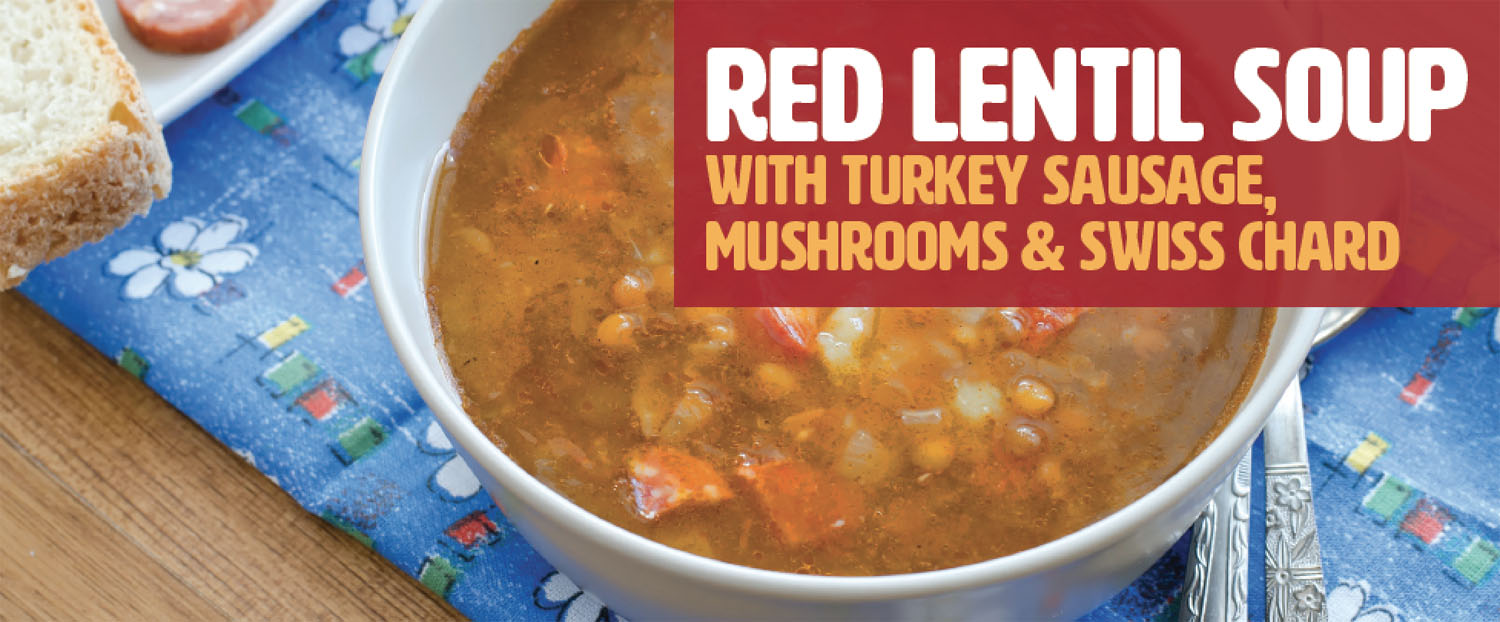 Red Lentil Soup                            

With Turkey Sausage, Mushrooms & Swiss Chard
2 teaspoons olive oil
1/2 cup chopped onion
2 cloves garlic, minced
8 ounces cremini mushrooms, sliced
3 cups unsalted chicken broth
1/2 cup water
3/4 cup red lentils
6 ounces fully cooked spicy turkey sausage, such as Andouille, thinly sliced
1 (1 pound) well trimmed petite beef tender steak(s) (also called chuck mock tender steak)
2 cups packed chopped Swiss chard
2 tablespoons shredded Asiago or Parmesan cheese
---
Heat the oil in a large saucepan over medium heat. Add onion and garlic and sauté 4 minutes. Add mushrooms and sauté 5 minutes or until vegetables are tender.
Stir in broth, water and lentils. Bring to a boil over high heat. Reduce heat and simmer uncovered until lentils are tender, 10 to 12 minutes. Stir in sausage and Swiss chard and simmer 5 minutes or until heated through.
  Ladle into shallow bowls and top with the cheese. Makes 4 servings.

Nutrition Facts
per serving
Calories 280
---
Calories from fat:

90g

Total fat:

10g

Saturated fat:

3g

Unsaturated fat:

2g

Sodium:

400mg

Carbohydrates:

28g

Fiber:

7g

Sugars:

3g

Protein:

22g

Iron:

15%DV

Zinc:

5%DV

B12:

1%DV